How Can You Use Bulk Packages?
Kilos of nuts, entire boxes of fresh fruit – isn't it all too much? We asked our customers how they use the large quantities of food they order from gebana and got lots of responses. Hopefully their tips can give you some inspiration!
Sharing
Many of our customers have told us that they share their orders with others. Some of them have created group chats for sharing our fresh fruit and dividing the costs. Others share with their neighbours or colleagues.

Still others prepare smaller packages of nuts and dried fruit to gift their host when invited to a friend's home or to give their ownvisitors a few pieces of fresh fruit to take home. Customers often tell us how much they appreciate the social aspect of sharing, which gives them more opportunities to connect with others.

Here are some of their photos and comments:
Proper Storage
When properly stored, food can often stay fresh longer than expected. Our customers write us saying that they store fresh fruit in the cellar, the stairwell or on the balcony. In the winter, many of them keep fruit such as oranges, clementines or apples in a Styrofoam box outside on the balcony or terrace.

Pantry staples like nuts or dried fruit can often be stored past their best-before date. Some customers also freeze part of their shipment in portions and take it out of the freezer as needed. Many of them like not having to go shopping as often because they have some food set aside.
Preserving
Fresh fruit can be dried or made into jams and preserves. Many of our customers like to use their mangos to make chutney. Some of them dry their orange and clementine peels for citrus tea so as to use every part of the fruit. Quite a few people also make marmalade out of our real oranges. You can find a recipe for this on our blog.
Revelling in the Abundance
Many of our customers have told us how much they love being able to enjoy an abundance of a particular fruit while it's in season. So much so that it's not unusual for them to finish off a box sooner than they first expected. Many get creative and turn some of their fruit into juices, smoothies, cakes or desserts. We also heard from many who love snacking on our fresh fruit, nuts and dried fruit at work and while out and about.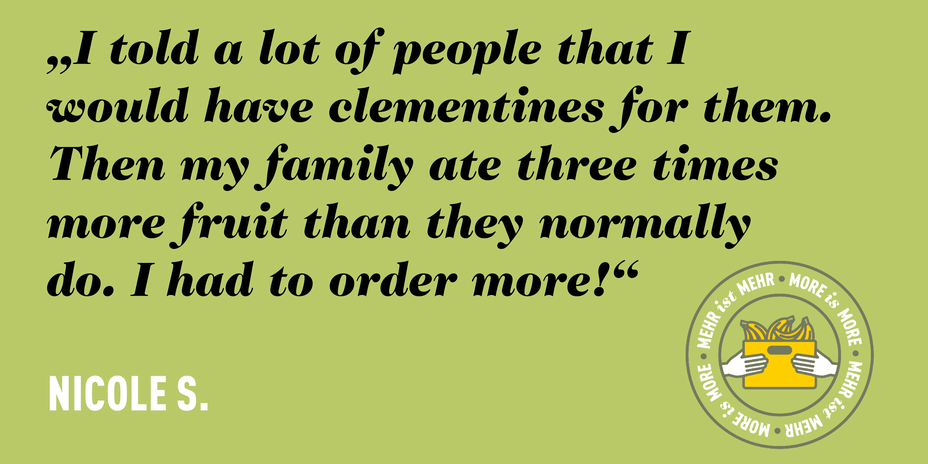 Need a Recipe?
Visit our blog for a plethora of recipes that you can make with our products. You'll find links to recipes and serving suggestions for the products in our shop by clicking Use and Preparation under the product image. We also provide tips on how to best store our fresh produce.
Many thanks to all the customers who sent us their photos and comments!